Carmen Nieto

Manager, Manchester Business Centre


FCE

Bank plc (Ford Credit Europe)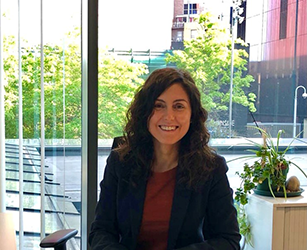 Biography and career

I was born and grew up in Madrid, Spain. My parents and my sister live there so I try to visit them a few times during the year. I went to university in Madrid and studied for a degree in Administration and Business Management. When I finished university, I went to Ireland to learn English during the summer where I met my partner, Phillip.

I started to work in Ford Credit shortly after finishing my degree and I have been working for the company for almost 22 years now. I started doing administrative roles as a temp, but soon after that, I moved to Marketing & Sales working for the financial arm of Mazda, Jaguar and Land Rover, which was part of the Ford group at that time. I also worked as a Ford Credit Sales Representative and had the opportunity to work very closely with the Spanish dealers and see the business through their eyes.

I then moved to a product specialist role working in a partnership between Ford Credit and ALD to offer a Full-Service Leasing product in Spain.

After 11 years working in the Spanish organisation, I transferred to the European side and lead a team of process owners of the dealer financing products in Europe. I was still based in Madrid and in 2014 I moved to the UK, to lead a project team in charge of centralising the dealer financing services into a newly created Business Centre in Manchester.

After the successful transformation of the servicing model for our dealers in Europe, I relocated to Manchester and took an operational role with responsibilities in commercial risk and wholesale operations for four of the European markets. I promoted in the summer of 2017 and took charge of the commercial risk and wholesale operations for the 13 markets serviced by the centre.

A year after, I was assigned to a couple of strategic initiatives reshaping the servicing model in Europe and in June 2019 I took the role of the Manchester Business Centre manager, which is my current role. In addition to being responsible for the overall well running of the centre, I have responsibilities on originations, customer services and collections for our UK retail customers and wholesale operations responsibilities for the 13 European markets that we service from the centre.
Tell us what this nomination means to you?
This nomination is such a great recognition. You just do what you think is good, you try to do a good job every day and, especially this past year, you work hard supporting your team and your customers and that is all what is on your mind. I am fortunate that people from my organisation have recognised and valued the work that my team and I have done. But having this external recognition, being nominated for the Barbara Cox Award is huge. It is because of what it means with regards to embracing innovation and giving back to the community, which are very important to me. I feel very proud to be associated with the values of the Barbara Cox award.
What advice would you give to a woman considering a career in automotive?
I would definitely encourage her to go for it. The automotive industry is so varied with lots of different roles and functions to work in, sales, after sales service department, financing, customer experience, and so much to learn and contribute in each one of them. There is opportunity for gathering different skills and playing dynamic roles, which is a strong foundation for a successful career.
Also, we are covering a very fundamental human need, which is transportation of people and goods. It is very rewarding to know that you play a part in it and that you are able to help people with the work you do.
Finally, I would add that right now, we are living such a pivotal moment in the automotive industry with the introduction of different mobility solutions and models, with which working in the automotive sector is going to be very exciting for years to come.
What advice would you give your younger self on having a successful career?

I would say 'stop worrying and trust your instincts'. I wasted a lot of energy wondering if what I was doing was right, if I was good enough if I belonged. Once I started to believe in myself and in my own abilities, I relaxed and enjoyed my work much more, this was the key.

I always felt that the opportunities were there, but I might not have always been confident enough to go for them, so I would say to my younger self, 'go for it!'
---