Jessica Chapman
Head of New Business
LeasePlan UK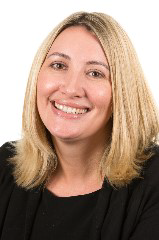 Biography and career

Originally qualifying as a Veterinary Nurse, I stumbled into the automotive world by chance. Having relocated with my then fiancé, I took a temporary position at Automotive Leasing on the South Coast and over 20 years later what an adventure it has been. I arrived in the office as a naïve 21-year-old, I didn't even drive, let alone know what a V5 was! My first job was stuffing tax discs into tax disc holders and here the love affair with the industry began.

Having worked for Public Sector Specialist – Automotive Leasing, which was then acquired by the LeasePlan Group, for over 22 years, I have been lucky enough to have an amazing career and personal journey with the Group. From my fleet administration days, I progressed to Account Manager and then heading up our Customer Services Division before moving into Sales, firstly as Regional Director and most recently starting my new challenge as Head of New Business for LeasePlan UK in January this year.

Along the way, I have collected some wonderful industry colleagues, who will be lifelong friends, and had two beautiful daughters (7 and 17) and the love of my life is my gorgeous yellow Labrador Denver (and of course my fabulous Partner Rob – he knows where he sits in the pecking order).

So 20 years down and 20 to go, until you find me retired somewhere warm, relaxing with a cold glass of wine (surreptitiously sneaking a peek at Fleet News).
Tell us what this nomination means to you?
This award means so much to me as I believe it gives me a platform to share my message regarding promoting positive mental health and focussing on the well being of our employees and colleagues, which is more relevant now than at other time in my career. I am particularly keen to spotlight on some of the more taboo topics such as Menopause, helping woman navigate through this minefield while also working with men, who may be bosses, husbands or colleagues to understand this subject more.
What advice would you give to a woman considering a career in automotive?
I have had an amazing career within the industry, and I have to say I have never felt held back by being a woman. I have worked in very male oriented roles such as heading up our Commercial Vehicle Team (twice). And this is where great leadership comes into play, I have always led the team to be dynamic, brave and bold while balancing this with being collaborative, empathetic and respectful. These are a combination of skills that can be deployed by successful leaders, regardless of their sex.
I also think working in a male orientated environment has contributed to my success, I know it might not be the done thing to say, but you know they are not all bad! I have worked for some really inspiring men and have picked up some of their techniques along the way. One that really resonates with me comes from a Glennon Doyle quote 'do you know who don't write gratitude journals – men that's who'. And I recognise this is something women really promote, a lot of my own friends and colleagues tell me they do this (think of three things to be grateful for today etc) and I believe this stems from the 'being thankful for what you have got' mindset. So now, I choose not to do this and instead, switch being grateful for feeling like it is not something to be thankful for but something I deserve.
Another example of this I see within our industry is our approach to success. Take this award for example, I expect if you had interviewed all the amazing women shortlisted, many of them would have been slightly embarrassed or would have said things like 'I don't really deserve this' or 'all the women short listed are amazing' and of course all the woman are amazing, but from witnessing some of my male colleagues in this environment, they do not feel apologetic, they feel they deserve it for all the hard work they have put in, for the skill they have shown, for the resilience demonstrated and for the successful outcome.
So for woman joining the industry, your sex does not define you, you will meet some amazing men and women and you will learn and laugh every day.
What advice would you give your younger self on having a successful career?
For me the hardest thing about my successful career is the balance between work and home life, I sometimes feel like I am a better LeasePlanner than I am a Mother! So I would remind my younger self to enjoy those special moments and to remember what is truly important.
Also, you don't have to have it all figured out to move forward, just take the next step.
---