Lorna McAtear
Fleet Manager
National Grid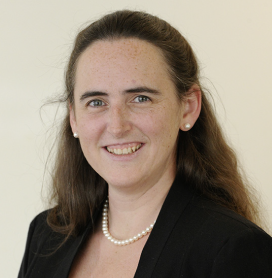 Biography and career
I'm mum to 11-year-old twins Alex and Shona, as well as a carer for my husband who has been bed-ridden for the past 6 years with severe back issues. I never set out to be in the automotive industry. I joined E.ON originally as an IT project manager and having worked on a carbon reduction project for one of the business units I was poached by fleet to head up all their decarbonisation agenda. My commitment to fleet was recognised and on my return from maternity, I was asked to head up the management of the commercial fleet. Something I was incredibly daunted by, I believed I had such big shoes to fill and would never be as good as the guys I was taking over from, I had them on these huge pedestals. I forgot one simple truth, they had been doing the job for 30+ years each versus a couple for me.
There were some early defining moments in my career, one was when one of those guys rang me for my advice on a piece of legislation change, a whole type of approval. He rang me because he knew out of everyone in the industry, I would have researched it and looked at the impact coming down the line, his words "it's what you do". I realised yes, I was different, I was me and I approached things my way, I didn't need to try and be them. Another moment was one sunny day in July of 2012, I was taking delivery of my first vehicle builds – 3 lorry loaders with cranes on, handed over to me originally as a "finished specification" but actually took 12 months because requirements, legislation, vehicle availability all changed and I had to "fix" everything, balancing resource issues, still suffering sleep deprivation as the twins were only just 2 years old and there they were in front of me, shiny, white brand new vehicles. As I was signing them off I had a phone call from one of my team, my CPC exam results were in, I had passed. That day was a bright, sunny day for so many reasons. Whatever challenges came my way I learnt I could deal with them (maybe a few tears on the way but I'd get there in the end!).
I continued to grow and so did my career. I left E.ON and worked for Royal Mail, the largest fleet operator in the UK. There I continued pushing the boundaries, learning and removing barriers to electric vehicle adoption. Passionate about air quality I offered to help with many roundtables, manifestos and fleet organisations, sharing my experiences so that others could learn and adapt from them. I spearheaded at Royal Mail our involvement in "Optimise Prime" – which at the time was the largest commercial vehicle EV project in the UK. From that project, I still continue to share my experiences with everyone and help others on their journey to net zero. I joined National Grid in August 2019, in January I had set out my 10-year strategy to decarbonise our entire fleet by 2030. I firmly believe in giving back to the industry and helping others, I don't run a company so I can't donate money but what I do have precious little of, is time, and it is time that I freely give, especially during these incredibly fluid and dynamically shifting periods. Never before has the automotive fleet industry and energy sectors had to work so closely together and we need to help each other through it. I liken this to an obstacle course and we don't win this race to net zero until we all cross the line together.
Tell us what this nomination means to you?
Just to be listed in such a group of amazing women is fantastic and even more so knowing one of my brilliant peers and friends is in this list with me.  I guess I also need to take my own advice and believe in myself, this nomination is recognition of all the effort, tears and sheer passion to change the industry, think outside the box, make it more diverse and acceptable to change, whether that is an electric vehicle or a new face.
What advice would you give to a woman considering a career in automotive?
Be yourself, don't try to fit into what you perceive is required.  There are so many skill sets needed in this industry now and we have so much to offer so be comfortable and be yourself.  I've worked a long time in and around converters and garage networks and when I visited them I would quite happily say to those listening "I'm not technical" and "I like my long fingernails" it didn't mean I didn't know what I was talking about, it didn't mean I didn't have anything to offer, it didn't mean I wouldn't get my hands dirty.  It meant I was being honest to myself and so honest to them and I, therefore, expected them to be honest with me.
What advice would you give your younger self on having a successful career?
Believe in yourself and take control, do your research therefore empower yourself do be able to do it.  Early on in my career, I needed to support the transport manager, so I enrolled on the transport manager course and took my CPC.  Sometimes you take a training course, sometimes you learn on the job and very often the biggest leaps are when you learn from mistakes made, so don't be afraid and push yourself out of your comfort zone every now and again.  Network, network and network some more, once you've done that then network the network.  It is ok not to know everything and ask for help, you can't do it on your own so don't try to.
---