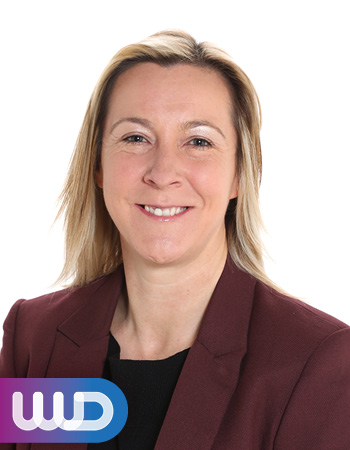 Could you give us a brief biography of you and your career?
I grew up in Belfast, and am the oldest in a family of 3 with 1 brother and 1 sister. I failed my 11 plus and went to an ordinary secondary school, however having had plenty of drive and determination to succeed from an early age I pushed really hard from 1st year and got the grades in my GCSE's to allow me to go to a Grammar School in 6th Form to do my A levels. During my time at school I always had a part time job and for a time I worked 2 part time jobs as I was always keen to work hard and earn money. I finished my A levels and went to study at Queens University Belfast with the thought of becoming a School teacher, although after year 1 realised teaching was not the career for me and decided to take a year out and got a job in what is now the Danske Bank as a Customer Service Advisor. Enjoying my time in the bank I decided to remain in this employment beyond the year and continue my degree on a part-time basis in the evenings. My drive and desire to succeed continued in the Bank and within a few years I had progressed to a Financial Advisor and finished my degree at Queens in Management and Business Studies. As I always had a passion for cars I received a text message one evening from a friend from the bank advising me that she had seen the perfect job for me, it was a Business Manager role at a local Audi dealership. Knowing that I did not see my long term career in the bank I applied and got the job, and from then I have managed to progress my career to my current position as Operations Director. During my time in the Motor Industry I have also got married to my husband Darren and we have a daughter Elle, this taught me that a work life balance is very important, although not always easy to achieve in this industry.
Tell us what this nomination means to you?
It means a lot. As a very self-driven person, every day I am striving to drive the business on and bring the staff with me on the Journey and at the same time always hungry to learn and improve. I never really feel I am doing anything different to anyone else in a similar position. This nomination therefore has shown me that all the hard work and effort that I put in is recognised and appreciated. To be recognised for something I enjoy doing is fantastic and I am genuinely honoured to see my name on the shortlist with these other Women who have made a fantastic contribution to this industry.
What advice would you give to a women considering a career in automotive?
Do it! It is a great industry to be part of. It can definitely be tough at times but also very rewarding for those prepared to put the work in.
What advice would you give your younger self on having a successful career?
Hard work and determination is key. You need to believe in yourself and if you really want something and are prepared to work hard for it, you will achieve. You must also be prepared for setbacks as there will be some but it is about dusting yourself down and driving on. If you are given an opportunity take it.
Thanks for your time speaking with us
About the Barbara Cox Award 2020
Nominees: Alison Jones, Karen Bickerstaff, Leanne Christmas, Sarah Symcox and Sue Sansome